Limited company strike off – sometimes known as dissolving a limited company – is an informal way of closing down a limited company which is no longer required. This could be because the company has ceased trading, the director is approaching retirement, or simply because the directors have no desire to continue running the business.
Alternatively, strike off is something which can be forced upon a company, typically by a disgruntled creditor or by Companies House for non-submission of annual accounts. This is known as compulsory strike off.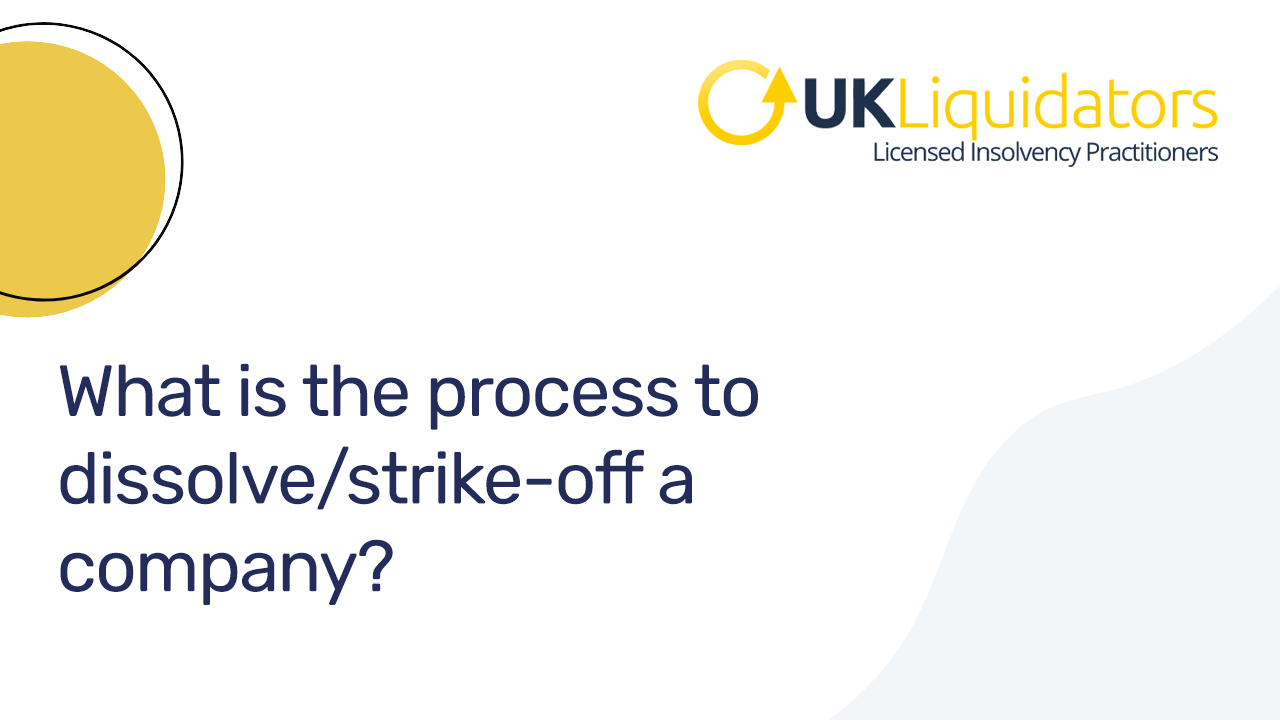 Understanding voluntary limited company strike off
A company director can voluntarily request that their company is struck off the register by submitting a DS01 form to Companies House and paying the appropriate administration fee. A notice will be placed in the Gazette declaring your intention to dissolve the company, and following a period of two months – supposing no objections have been received – the company's name will be removed from the register held at Companies House and it will cease to exist as a legal entity.
This is a relatively quick and inexpensive process, however, strike off is only suitable for certain companies in a particular set of circumstances. Strike off is designed as a simple and informal way for a company with no outstanding debt, legal proceedings, or substantial assets to close down in an efficient manner.
If your company is in debt, or conversely, has a significant amount of money or assets, strike off is not likely to be appropriate for your situation. However, there are formal procedures which you can utilise to close down your company depending on the financial position at the time of closure.
Worried about your Bounce Back Loan?
If you are a limited company director worried about how you are going to repay your Bounce Back Loan, we are here to help. As licensed insolvency practitioners we can talk you through your options when it comes to repaying your outstanding Bounce Back Loan, as well as handling all negotiations with creditors on your behalf. Call our team today on 0800 063 9262 .
What happens if your strike off request is objected to or challenged?
While some strike off applications – both voluntary and compulsory – go through unchallenged, in some cases, an objection will be raised which will halt further action being taken and prevent the company from being dissolved.
If you have voluntarily submitted a strike off application to have your company dissolved and have been met with an objection, the first step is to determine the reason why. In the vast majority of cases, this will because a creditor of the company has been informed of your intention to dissolve the business and has formally raised an objection to Companies House to prevent this happening.
If you attempt to dissolve your company while having unpaid debts, it is highly likely you will encounter objections to the proposed strike off. This is because once a company has been dissolved, it ceases to exist as a legal entity, and creditors therefore stand to lose any money owed by the company unless they pay to reinstate it at a later date. Due to this, it is in the creditors interest to object to the planned strike off in order to ensure the company remains active until the money owed has been repaid.
If you are unable to settle the debts of the company prior to strike off, you will need to consider closing the company through a formal insolvent liquidation process such as a CVL.
Strike off alternatives for insolvent limited companies
If your company is insolvent - meaning that its liabilities outweigh its assets, or that it is unable to meet its financial obligations on time and in full – dissolving the company through a strike off process is not a suitable option.
Instead, if you wish to close your company, you will need to place it into a formal liquidation procedure known as a Creditors' Voluntary Liquidation (CVL). A CVL is a director-initiated process which brings about the end of an insolvent company in an orderly manner, while ensuring all creditors are dealt with fairly and in accordance with the Insolvency Act 1986.
A CVL must be overseen by a licensed insolvency practitioner who will handle the entire process on behalf of the company's directors. As part of their duties, they will be responsible for identifying company assets, dealing with outstanding creditors, and ensuring any distributions are made according to a set hierarchy of priority.
Once this has been done the company will be formally dissolved at Companies House and will no longer exist as a legal entity. Any remaining debt will be written off unless this has been personally guaranteed by directors. As part of the process, you may also be entitled to director redundancy if you meet the criteria.
Strike off alternatives for solvent limited companies
If your company is solvent has in excess of £25,000 worth of cash or assets to distribute to shareholders, it is likely to be more cost-effective for you to close the company by way of a Members' Voluntary Liquidation – or MVL – rather than opting to strike off the company using the DS01 form.
An MVL is a formal liquidation process aimed at solvent companies which have reached the end of their useful life. An MVL allows shareholders to extract the proceeds of the business is a tax-efficient manner while also ensuring the company is wound down in an orderly manner.
Funds distributed by way of an MVL will be treated as capital gains, rather than income, and will be taxed accordingly. Not only that, but if distributions qualify for Business Asset Disposal Relief (previously known as Entrepreneurs' Relief) your tax liability will be reduced even further to just 10% on all gains up to a lifetime limited of £1m. 
Limited company liquidation or strike off?
If you are considering striking off your limited company, you should first seek advice from a licensed insolvency practitioner who will be able to determine whether this is an appropriate move, or to suggest a more suitable alternative procedure if applicable.
The experts at UK Liquidators are here to help you determine the next step for your business, particularly during times of financial distress. We can talk you through all of your available options before advising you on which one we believe is most appropriate for your company and its current situation. Call today for immediate help, advice, and support, or to arrange a free no-obligation consultation.