How can I stop a winding up petition resulting in compulsory liquidation?
If one of your creditors has issued a winding up petition, you need to act quickly to prevent your company being forcibly liquidated. Compulsory liquidation means it will close down permanently, and leads to rigorous investigations by the Insolvency Service into your conduct as a director.
There are steps you can take to prevent a winding up order being granted, however. Speed is of the essence in these circumstances, and you need to seek help from a licensed insolvency practitioner (IP).
UK Liquidators specialise in corporate insolvency, and can provide the urgent information you need.
Worried about your Bounce Back Loan?
If you are a limited company director worried about how you are going to repay your Bounce Back Loan, we are here to help. As licensed insolvency practitioners we can talk you through your options when it comes to repaying your outstanding Bounce Back Loan, as well as handling all negotiations with creditors on your behalf. Call our team today on 0800 063 9262 .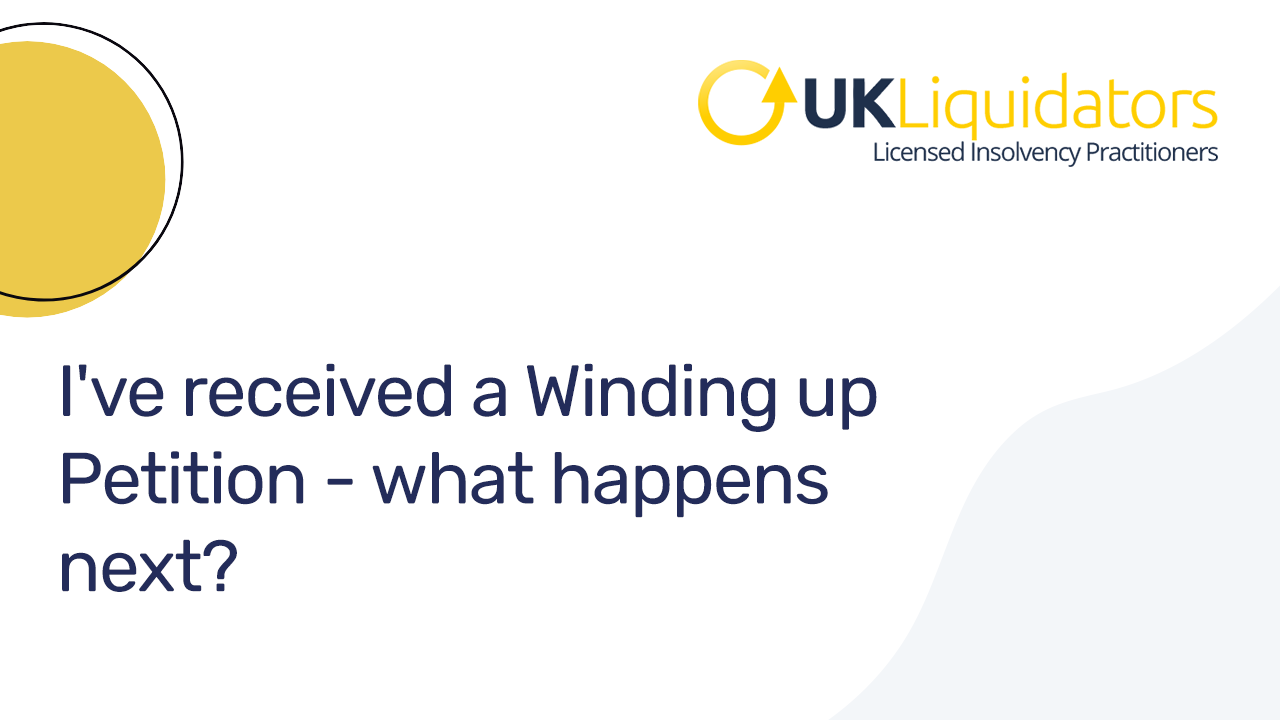 What happens when a winding up petition is made by a creditor?
Issuing a winding up petition is an expensive and serious step for a creditor to take. They're likely to have made several unsuccessful attempts to recover their money, and now wish to close down your company in the hope that they'll receive a return from the liquidation process.
Once a petition has entered the court system you only have seven days to act - once it's publicly advertised in the Gazette, the bank will freeze your accounts and effectively prevent you from trading.
So how can you challenge or stop a winding up petition, and what are the consequences of failing to act quickly enough?
Seek professional help
As soon as you know your company is facing a winding up petition you need to seek help from a licensed insolvency practitioner. They'll be able to provide reliable advice on how to proceed, and offer practical support where appropriate.
Our team of experts can offer you a same-day consultation free-of-charge to quickly assess your situation and advise on the most appropriate course of action.
Start your online liquidation today
If you have decided liquidation is the right option for your limited company, you can take the first step and begin the process online using our online portal. Starting the process is quick, simple, and can be done at a time that suits you. Your information will be submitted to your local UK Liquidators insolvency practitioner who will be with you every step of the way. Click here to start your company's liquidation online.
How to proceed when a winding up petition has been issued
These are some of the options that may be open to you:
Pay the debt
Paying your creditor in full, including any costs, could stop the court hearing if you make the payment quickly. Bear in mind that if the petition has already been advertised in the Gazette, that another creditor could 'take over' the petition in relation to their own debt. This is one of the reasons why acting before the petition is publicly advertised is crucial.
Apply for an adjournment
If you can pay the debt in full but need a little more time to gather together the funds, or you're preparing to enter into a Company Voluntary Arrangement (CVA), you may be successful in applying for an adjournment.
Dispute the debt
If you believe the creditor has made the petition to pressurise you into paying, or you genuinely dispute the debt in question, you can apply for an injunction so the petition isn't advertised in the Gazette, and then officially dispute the debt at court.
Enter Creditors' Voluntary Liquidation (CVL)
If you've received professional insolvency advice and there's no hope of rescuing the business or repaying the company's debts, entering voluntary insolvent liquidation could be the best option.
It allows you to comply with strict insolvency laws in the UK – essentially, you're protecting your creditors from further losses, but you may also be able to claim redundancy pay as a director.
If you can prove that you've worked for the company as an employee – under a contract of employment, and taking a regular salary through PAYE, it could help you pay for the liquidation process.
UK Liquidators can provide further guidance on what to do if your company is facing a winding up petition. Please don't delay in contacting us under these circumstances – we can quickly assess your position and help you take the right actions.