No.1 in UK for Limited Company Liquidations
Who initiates a Creditors' Voluntary Liquidation?
Stop HMRC & Creditor Pressure
Understanding the CVL initiation process
---
Written by
Jonathan Munnery
---
A CVL is a voluntary liquidation process which is initiated by the director(s) of a distressed limited company. Many company directors choose to place their company into liquidation when it is clear it has no future. By doing this, directors are protecting the interests of the company's creditors and helping to mitigate any further losses, as per their legal duty as the director of a knowingly insolvent company.
The alternative is that a company is forced into compulsory liquidation. This would happen when outstanding creditor(s) petition the courts for the company to be wound up. In compulsory liquidation, a Winding Up Petition would be served on the insolvent company, and if the company is not in a position to defend this or settle the outstanding liability, the court will order that the company is wound up. The Official Receiver would be appointed who would set about identifying company assets and conducting an investigation into the conduct of the company's directors.
During a very stressful time, UK Liquidators were able to calmly explain the liquidation process to me, ensuring I knew exactly what I was getting into before going ahead. I cannot thank them enough for making a difficult time that little bit easier.
Harry Barnes
|
Company Director
Is liquidation the right option for you?
Take our 60 second test and find out
Company health risk assessment
Types of liquidation available
Alternatives to liquidation
Understand your next steps
60 Second Liquidation Test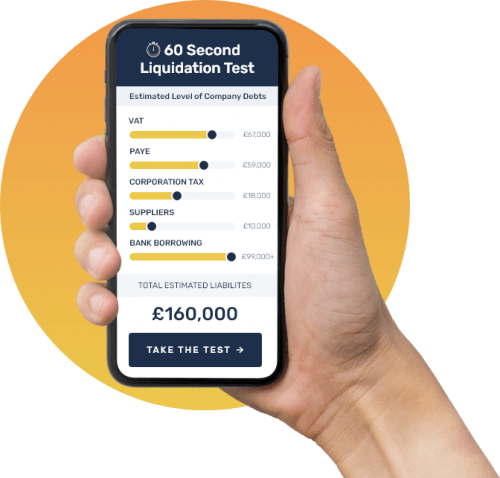 Express Liquidation Service
Ready to start liquidating today?
Complete the form and a member of our team will be in touch.
Please note:
By completing this form you are
not
liquidating your company
Contact the UK Liquidators Team
If you are considering liquidation for your company, taking expert advice at an early stage is crucial. At UK Liquidators, our team of licensed insolvency practitioners are committed to providing limited company directors with the help and advice they need to make an informed decision.
Free initial consultation

Strictly confidential

Fully licensed insolvency practitioners

Local office support

Named case handler throughout
Looking for immediate support?
Complete the below to get in touch