It's important to know when your company is insolvent as your obligations change as a director at this point. Essentially, you need to cease trading and place the interests of your creditors first as soon as you're aware that the company may have entered insolvency.
Should the company need to be liquidated and you've traded when insolvent you could face disqualification as a director, and even personal liability. So how do you know if your company is insolvent?
There are three separate tests for company insolvency – these are the cash flow test, the balance sheet test, and the legal action test. You must seek advice from a licensed insolvency practitioner (IP) if you're worried about insolvency, as you need to know the options that are available to you.
Worried about your Bounce Back Loan?
If you are a limited company director worried about how you are going to repay your Bounce Back Loan, we are here to help. As licensed insolvency practitioners we can talk you through your options when it comes to repaying your outstanding Bounce Back Loan, as well as handling all negotiations with creditors on your behalf. Call our team today on 0800 063 9262 .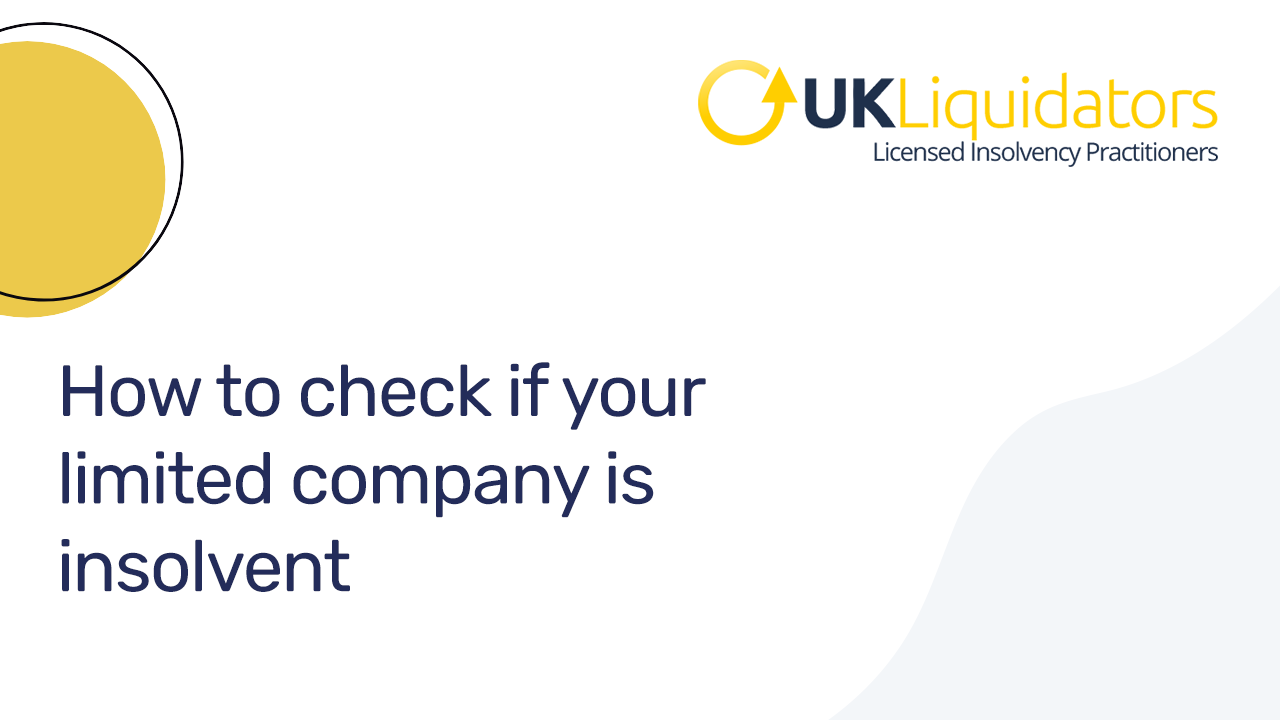 What is the cash flow test?
You have to consider whether your company can pay its bills as they fall due, or in the 'reasonably near future.' Being unable to pay your staff on time, struggling to stay within the terms and conditions of supplier contracts, or being in tax arrears, are all indications that your company is experiencing significant financial distress. So take action quickly and seek insolvency guidance to prioritise your creditors' interests.
Balance sheet test
The balance sheet test identifies whether the total of the company's liabilities exceeds its assets. When carrying out the balance sheet test you need to include contingent liabilities in the calculation – these are payments that you may need to make in the future, such as employee claims.
This test highlights whether, if you sold all your assets, you could repay your creditors. If not, the business is in an insolvent position. Should the total assets and liabilities be similar, it means the company is verging on insolvency and you must take action to protect your creditors.
You may pass the balance sheet test but fail the cash flow test, so it's important not to rely on only one test to determine insolvency.
Legal action test
The legal action test looks for any outstanding demands for payment that could be upheld by a court. A creditor may have issued a statutory demand for a debt of £750 or more, for example, which if unpaid, would officially confirm the company's insolvent position.
Statutory demands are common precursors to winding up petitions, and one or more of your creditors could be intending to enforce liquidation on the company. With this in mind, it's always preferable to voluntarily place your company into liquidation via a Creditors' Voluntary Liquidation (CVL) procedure. You may also be able to claim redundancy pay as a director in doing so.
Start your online liquidation today
If you have decided liquidation is the right option for your limited company, you can take the first step and begin the process online using our online portal. Starting the process is quick, simple, and can be done at a time that suits you. Your information will be submitted to your local UK Liquidators insolvency practitioner who will be with you every step of the way. Click here to start your company's liquidation online.
What are the warning signs of company insolvency?
Poor cash flow is one of the earliest signs that your company could be heading towards insolvency, but it's not the only one. You also need to look out for:
Dealing with creditor pressure to the extent that you're constantly firefighting issues rather than building the business
Consistently finding it difficult to recover your own company's debts -  often a significant contributor to poor cash flow
Being unable to secure additional borrowing
Suppliers being unwilling to extend payment terms
UK Liquidators can let you know whether your company is insolvent, and advise on your best options. We have extensive experience of helping company directors to voluntarily place their company into liquidation, and can help you avoid allegations of wrongful trading. Please contact one of our partner-led team to arrange a same-day consultation free-of-charge. We operate local offices around the UK.