The continuing COVID-19 pandemic has caused unprecedented interruption to lives across the country, and indeed the world. With the economy forced to take a hit in order to protect the most vulnerable members of our society, businesses have never been under more pressure.
Numerous national lockdowns, coupled with a variety of local restrictions since March 2020, has led to some businesses seeing productivity slow and customer demand dwindle; while others have seen trade grind to a halt completely. Although the government have introduced a number of schemes and initiatives aimed at helping businesses stay afloat, for some, these were not enough to prevent the company sliding into insolvency.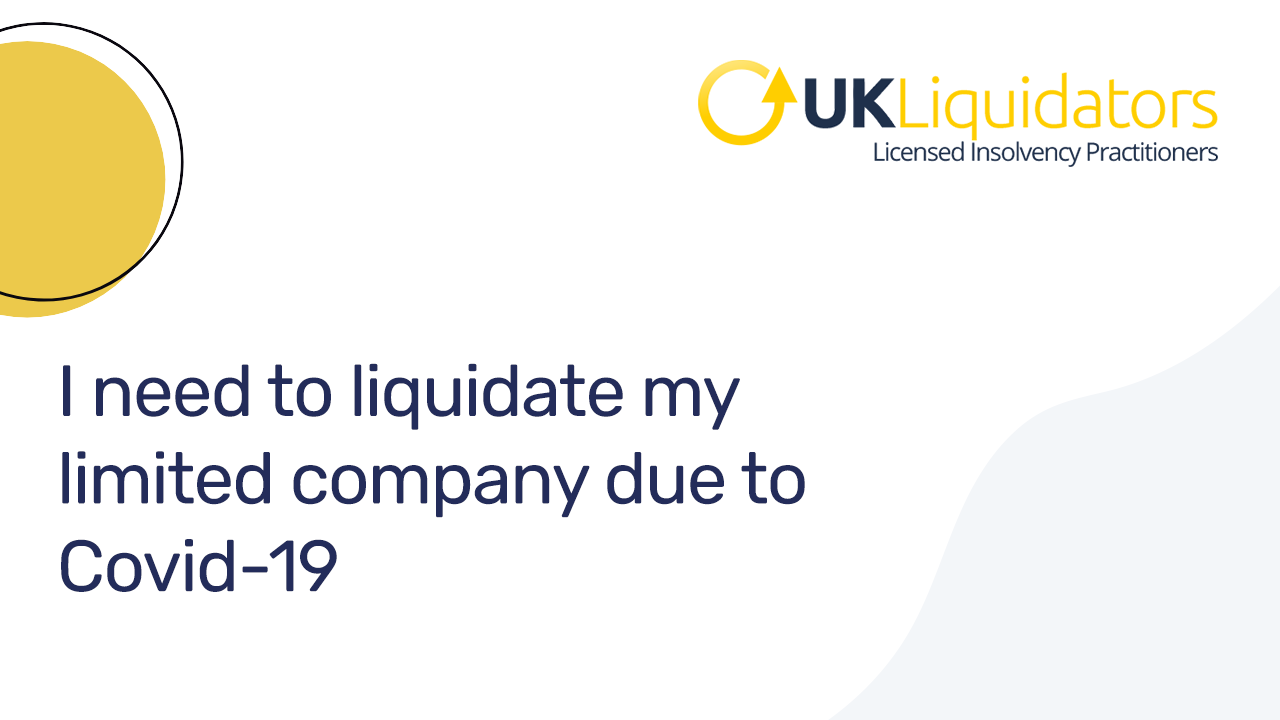 Worried about your Bounce Back Loan?
If you are a limited company director worried about how you are going to repay your Bounce Back Loan, we are here to help. As licensed insolvency practitioners we can talk you through your options when it comes to repaying your outstanding Bounce Back Loan, as well as handling all negotiations with creditors on your behalf. Call our team today on 0800 063 9262 .
What to do if COVID-19 has made your business insolvent
If your business has struggled to earn money during the COVID-19 pandemic, you may be considering your options for the future. Depending on the company's financial position, likely future viability, as well as its performance prior to the pandemic, there are a range of options which can be considered.
It may be possible to rescue your business by utilising a formal restructuring tool or securing additional finance to help bridge a temporary cash flow shortfall.
For those company's which are experiencing acute cash flow worries, and may have fallen into arrears with creditors, but who believe their business has a successful future away from the COVID-19 restrictions, a Company Voluntary Arrangement (CVA) may be an option. A CVA allows for liabilities to be restructured into more affordable and sustainable monthly repayments, by using future profits to be existing borrowings. The key with a CVA is viability; if you cannot demonstrate your company's chances of recovery, it is unlikely you will be approved for such a process.
COVID-19 and company liquidation
If your company has become insolvent – or you are worried this could soon be the case – and you don't see any prospect of things improving, you may need to consider liquidating the business.
Liquidation brings about the ultimate end of a company in an orderly manner and under the guidance of a licensed insolvency practitioner. A director-initiated liquidation of an insolvent company can be achieved using a Creditors' Voluntary Liquidation – or CVL.
As part of the liquidation process, the appointed insolvency practitioner will be in charge of locating company assets which can then be sold – or 'liquidated' – with the proceeds then being shared out amongst outstanding creditors. Due to the nature of an insolvent company, the money available will not be enough to ensure all creditors are paid what they are owed. When the company is dissolved – which signals the end of the liquidation – the company will no longer exist in the eyes of the law, and therefore any remaining debts owed by the company will be written off. The exception to this is if the directors provided a personal guarantee to secure the borrowing.
Start your online liquidation today
If you have decided liquidation is the right option for your limited company, you can take the first step and begin the process online using our online portal. Starting the process is quick, simple, and can be done at a time that suits you. Your information will be submitted to your local UK Liquidators insolvency practitioner who will be with you every step of the way. Click here to start your company's liquidation online.
How do I know if liquidation is right for my company?
The past year has thrown up challenges like never before, with the COVID-19 pandemic causing previously profitable companies to slide into a state of insolvency, while making the situation even worse for those businesses already experiencing problems.
If you are worried about the financial position and future prospects of your limited company, you are most certainly not alone. The very best thing you can do if you are in this situation as a result of the COVID-19 restrictions is to seek the help and guidance of a licensed insolvency practitioner. They will be able to talk you through the range of restructuring and turnaround options which exist, as well as being able to ascertain whether the company would be better being placed into liquidation.
An insolvency practitioner is the only professional who will be able to make this assessment on your company's behalf. If it is determined that liquidating the business is the most appropriate next step, they will be able to administer the whole process of your company's behalf, from dealing with creditors, through to having the company's name removed from the Companies House register.
At UK Liquidators, we have a nationwide team of fully licensed insolvency practitioners ready to help you and your company. Take the first step by calling the team today on 0808 253 5776.